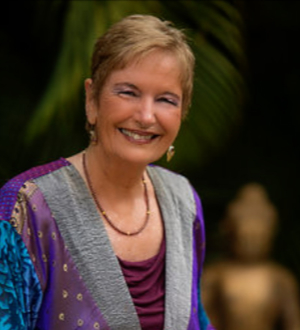 Laura Greenwood, Ph.D.
Applying Buddhist Wisdom to Everyday Problems
For 35 years, Dr. Greenwood has distilled practical wisdom from traditional Buddhist teachings to help people overcome the distress caused by problems and find meaningful satisfaction in their work and personal lives.
"I think of my work as 'Applied Buddhism.' For my entire professional life as a teacher, I have delighted in helping tens of thousands of people joyfully improve how they handle problems in their everyday lives."​
"I draw on Buddhist wisdom methods that focus on how to become aware, regulate and transform negative emotions so that people can effectively resolve problems and feel fulfilled in all they do."
- Dr. Laura Greenwood
Drawing on the Buddhist understanding of the mind, Dr. Greenwood has developed time-tested, proven and practical approaches that can transform toxic emotions and dissatisfaction into contentment and a sense of higher purpose.
By applying Buddhist methods such as mindfulness, compassion, "metta," perspective-taking and acceptance of impermanence, she helps people resolve problems, transforming the emotional stress of their fears, discontent, and apathy into insight, influence, and engagement.
Biography
Meet Dr. Greenwood
Dr. Laura Lois Greenwood has helped thousands of people gain the skills to move from upsetting emotional reactions to objective and compassionate responses for resolving problems. She translates Buddhist methodologies into practical, daily life applications for how to effectively communicate, give difficult feedback, resolve disagreements, and handle upsetting changes. With these tools, people are able to transform their negative emotions and achieve greater contentment and harmony in their work and personal lives.
Dr. Greenwood has designed and delivered more than 30 customized training programs in the fields of leadership, management, emotional intelligence, communication skills, facilitation, team building, customer service, continuous quality improvements, cultural diversity, and women's empowerment.
She offers an online workshop, certification programs, and coaching sessions to help people develop the skills needed to empower themselves and others to overcome upsetting problems, become more fully engaged in their work, and cultivate a greater sense of purpose and meaning in their lives.
Professional Experience
As a founding director of the workforce training center at the University of Hawaii Maui College, Dr. Greenwood helped tens of thousands of people develop skills for improved productivity and career success for 22 years.
Hundreds of clients have benefited from Dr. Greenwood's training programs, including all of Maui's premier resorts such as the Four Seasons, Westin, Ritz Carlton, Hyatt Regency, Marriott, and Sheraton; she has also worked with the University of California Berkeley Extension, John F. Kennedy University, SunLife Corp, Nagoya Japan, and healthcare leaders in Japan and Hawaii. She has produced award-winning programs for Hawaii's retail and restaurant industries.
Over a period of 6 years, Dr. Greenwood served as the Corporate Director of Training and Development for Landmark Hotels Group-Hawaii at Makena Beach & Golf Resort on Maui and The Kahala in Honolulu, where she oversaw the professional development of 120 leaders and 800 staff members.
Education
While studying at the University of North Carolina, where she earned a Bachelor of Arts with Phi Beta Kappa distinction, Dr. Greenwood received a grant from the East West Center, University of Hawaii to specialize in Japanese language and culture.
Dr. Greenwood obtained a Master's Degree in East Asian Studies and a Doctorate Degree in Political Science from the University of California, Berkeley with concentrations in political theory, organizational development, culture and personality, Japanese studies, and women's employment and training issues.
Dr. Greenwood has been a student of Buddhism since 1968. After researching the cross-cultural influences of Buddhist and Christian values in Japan in the 19th century, she embarked on a more personal spiritual search, traveling to the Tibetan Buddhist monastery of Kopan, near Kathmandu, Nepal. There she received teachings from the esteemed Lama Thubten Yeshe and Lama Zopa Rinpoche.
Dr. Greenwood continues to study with Buddhist masters and takes a 2-week solitary meditation retreat each summer since 1993 to renew her spirit and practice.
Career Highlights
Helped thousands of individuals learn how to transform negative emotions and create lasting satisfaction in their jobs and lives
Acknowledged widely by students as an engaging, stimulating, and effective teacher
Helped dozens of Maui resorts and businesses operate at the highest level of quality
Designed and delivered business and workforce development training programs for the community of Maui and State of Hawaii at the University of Hawaii Maui College for 22 years
Certified hundreds of trainers to teach her most popular training program
Received local, state, national, and international recognition and awards
Incorporated mindfulness practices into training programs since 1998
Became one of the founding directors of a Tibetan Buddhist Retreat Center (Vajrapani Institute) in Santa Cruz, California
Copyright © 2018 Glidewing - All Rights Reserved