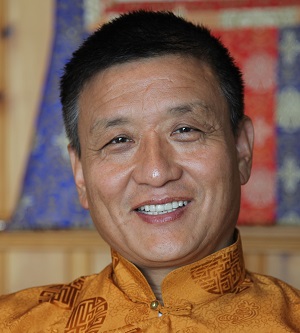 Tenzin Wangyal Rinpoche
Cancellation Policy: You may cancel your enrollment for any reason during the first week. The deadline is the first Friday of the workshop, and we will refund your enrollment fee less credit card fees charged by our payment processing provider.
Time-Zone Friendly: There are no set class times. Participants from all over the world can attend and no prior experience is needed. Audio/Visual material is pre-recorded and streamed. You can replay the instructional sessions as often as you need for the duration of the workshop.
System Requirements: Broadband Internet access is essential due to the streamed video content. We recommend the Firefox, Chrome and Safari browsers for use with our course web sites. GlideWing Workshop Videos are compatible with all desktop, notebook and mobile devices, including Apple and Android tablets and smartphones.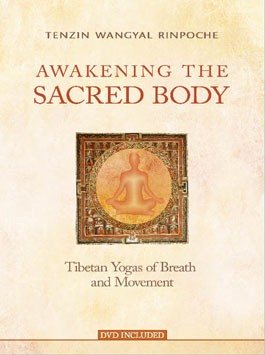 Comments from the Online Sangha
about Rinpoche's online workshops
"Tenzin Wangyal Rinpoche is a very special teacher who imparts profound teachings in a simple, down to earth way, which is highly effective. I'm definitely noticing results from the techniques and plan to make these practises part of my daily life."
- V.Q., Spain
"The most I like is being together, is being supported, is knowing you're not alone. There is always someone online or practising somewhere and we can connect and stay connect. With Rinpoche's ever leading and keeping us together energy wherever we worldly are.."
- J.S., Netherlands
"This course has provided the tools for emotional and mental transformation, and it's power of effectiveness is extraordinary. However, the guidance and presence of Rinpoche has catapulted these methods into another realm; profound healing has taken place in the past 3 weeks."
- C.A., UK
Workshop Information

Awakening the Sacred Body:
The Tibetan Yogas of Breath and Movement
with Geshe Tenzin Wangyal Rinpoche
January 8 - 30, 2022
A three-week online workshop with personal support and guidance from Tenzin Wangyal Rinpoche
Workshop registration: US$ 325.00
---
To register, click on the "Add to Cart" button, and then follow the instructions on the following page. Once we have processed your registration, we will complete your enrollment and send you further instructions by email.

For assistance, please write to us at programs@glidewing.com.
This three-week online workshop, with personal guidance from Geshe Tenzin Wangyal Rinpoche, instructs you in ancient practices of Tibetan yoga. These practices have been used for thousands of years to open and awaken the energy centers and channels of the subtle energy body. They can enhance your physical fitness, mental well-being, and spiritual growth. By clearing uncomfortable emotions and other obscurations, they can open the space from which joy, love, compassion, and other enlightened qualities spontaneously manifest.
No previous physical training is necessary to engage in and benefit from the two sets of simple practices taught in the instructional videos. First, you will learn the Nine Breathings of Purification, which help you to clear "the three poisons" of ignorance, anger, and attachment from three primary channels in your body, as a powerful means of connecting with the natural mind. Next, through the Five Tsa Lung Exercises, you will use simple body movements to unblock and clear five primary chakras (energy centers) within the body's central channel, in order to tap into the treasure of deeper wisdom and enlightened qualities that are always available to you.
In each practice you will be guided to bring to mind the specific obstacles you are personally facing in life, so you can clear them, access their antidotes, and transform your life in profound and lasting ways. The power of each practice relies on the correct focus of mind as you guide your breath—and with it, the subtle breath known as prana, chi, or lung—into and through the visualized channels and chakras, releasing obstacles and obscurations through physical movement and with the exhalation. Together, these practices can allow you to discover the best of who you are and manifest your greatest potential.
The Workshop Structure
The three-week workshop is divided into six teaching sessions plus an introduction to its practices. Because the workshop is intended to be experiential rather than purely philosophical or conceptual in nature, each teaching session provides guidance and exercises for your formal and informal practice. A series of instructional videos are introduced in progression throughout the three weeks. Every few days a new teaching session is introduced, allowing you to view and practice on your own schedule. Each teaching session concludes with a guided meditation, along with an MP3 audio version that can be downloaded and kept for ongoing practice.
Throughout the workshop Rinpoche recommends devoting at least 20 minutes, twice a day, to formal meditation practice, as well as engaging in moments of "informal practice" throughout your day. He also encourages ample use of the private, protected discussion forum where participants from around the world can share experiences in writing, discover commonality in their challenges and successes, and support each other in applying the practices.
The videos in the workshop were recorded specifically for this program, and once a teaching session has been introduced it remains available for your review throughout the duration of the course. It is important to us that you have as much time as you need to complete your work, so we are offering all participants extended access to the videos and other course materials for two weeks after the course formally ends.
Rinpoche makes himself available throughout the three weeks of the workshop to answer questions about the teachings and your experiences with the practices through our private workshop forums and messaging system. While you will have the ability to ask Rinpoche questions privately, we encourage you to use the forums so that everyone may benefit from your experiences and from Rinpoche's responses and guidance. Through the forums, you will be able to communicate and share your experiences with the group who will be working with the teachings along with you. Rinpoche is in great demand with a very busy travel and teaching schedule, and he asks that your questions be about the teachings presented in the workshop and in particular, your experiences with them. He also asks that your questions come from the heart, rather than being conceptual or merely inquisitive in nature.
Workshop Features:
Continuous personal support and individual advice from Geshe Tenzin Wangyal Rinpoche via workshop forums
Three-week teacher-guided online workshop
Step-by-step video instructions via streaming video
New material released twice a week
Six hours of video instruction and meditations
No set class times — review video instruction any time and as often as necessary throughout the workshop
Downloadable guided meditations and written practice instructions for your ongoing practice
Easy-to-use and -navigate course site
Copyright © 2016-21 Glidewing - All Rights Reserved