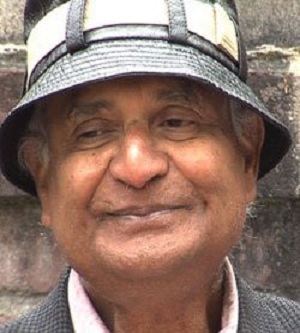 Dr. Amit Goswami
Cancellation Policy: You may cancel your enrollment for any reason during the first week. The deadline is the first Friday of the workshop, and we will refund your enrollment fee less credit card fees charged by our payment processing provider.
Time-Zone Friendly: There are no set class times. Participants from all over the world can attend and no prior experience is needed. Audio/Visual material is pre-recorded and streamed. You can replay the instructional sessions as often as you need for the duration of the workshop.
System Requirements: Broadband Internet access is essential due to the streamed video content. We recommend the Firefox, Chrome and Safari browsers for use with our course web sites. GlideWing Workshop Videos are compatible with all desktop, notebook and mobile devices, including Apple and Android tablets and smartphones.
Comments from Workshop Participants:
"Wonderful course! I feel I have learned a lot and that I will be able to use it to my advantage. I feel a lot more clarity about my spiritual quest now". — Julie, U.K.
"In this Workshop a wonderful scientific approach of the journey to enlightenment is offered. The teachings are very clear and understandable (also for me as a non - scientist) and I enjoyed very much having got explained meditation states and methods in scientific language". — Gabriele, Austria
"I am very grateful to Dr. Goswami and Glidewing Productions for making this workshop possible. I greatly enjoyed each presentation and value the material that was provided. I learned so much that brings a better clarity of knowing. It has been meaningful to me. There have many thoughts presented that have created a contemplative state within me which I highly value. The world view is one of the highest order of which I know is possible. In gratitude". — Mary, U.S.
"It was the most interesting training I ever attended! - the format - e-learning - is wonderful (I did not had the cost of transportation or hotel, I did not had to take days off at work and .... very important: I was able to rewind again and again and again and ...., ) - the content was !extremely! interesting" — Dominique, Belgium
"This workshop has provided a complete understanding about enlightenment. The staff at Glidewing are professional, pleasant and prompt to take care of any questions or technical issues you have. I have enjoyed my time with Glidewing and I will surely come back again". — Carol, U.S.
"I enjoyed Dr. Goswami´s teachings, the clarity and generosity with which he lectures". — Carolina, Argentina
"The course content is precise.., well focused and easy to follow & practice". — Chowdappa, India
"This was an amazing learning modality! I cannot express my joy and appreciation enough. The videos, forums, MP3's and community have been life-altering". — Hathi, U.S.
"I really appreciated this format, so that I can return to the classes to examine details I may have overlooked. I loved the connectivity of the forum as well". — Suzanne, U.S.
Living Quantum Spirituality

The Journey to Quantum Enlightenment
November 25 - December 24, 2023
With Amit Goswami, Ph.D.
This course features seven downloadable guided Hemi-Sync® audio exercises.
Workshop registration: $349.00
---
To register using PayPal, click on the "Add to Cart" button, and then follow the instructions on the following page. Once we have processed your registration, we will complete your enrollment and send you further instructions by email.

You can also click here to purchase and enroll in the workshop using the Stripe payment system directly on the course site. On the course site, you can use your existing GlideWing account, or create a new one.

For assistance, please write to us at programs@glidewing.com.
What is your vision of enlightenment?
Spiritual Traditions and Science, long at odds, are moving towards a new paradigm of understanding the Universe. Quantum Physics is helping us discover that physical reality is not what it seems and that all things are interconnected in the most fundamental ways. What is this unifying principle, the very foundation of All Life, that enables this connectedness?
We can not define it, yet it is a part of every planet and star, every blade of grass, and every human being — it is a part of you. The world's spiritual traditions call experiential realization of this connectedness awakening, and living from this state of consciousness — enlightenment.
THE PARADIGM SHIFT: TRANSFORM YOUR PERCEPTION AND REALITY
In this four-week online course, Dr. Amit Goswami explores the new scientific paradigm, shows you how it affects all aspects of your life, and guides you through practices, meditations, and exercises to help you not only understand but also experience this state of Oneness and learn to live from it.
The workshop will cover different aspects of our every day life, from personal relationships, love and marriage, to dreams, creativity, manifestation, reincarnation and self-realization.
Join us for the four transformative weeks with Dr. Goswami. In his own words, "As you realize Oneness, your perception changes. And the change in you perception will change your reality".
THE WORKSHOP
Four-week Intensive Online Workshop
Instruction presented with streaming video - no set class times
Downloadable guided audio exercises and meditations for your continued practice
Personal support and guidance from Amit Goswami
Powerful Hemi-Sync audio technology to support and deepen your transcendent experiences
View presentations as often as necessary
Easy-to-use course website
Learn and practice from the comfort of your own home
ABOUT DR. GOSWAMI
Dr. Amit Goswami, a professor emeritus of physics at University of Oregon, is a scientist, spiritual teacher, and author. His personal journey started with professional research in the field of Quantum Physics. Years of study and experimentation led him to realize the truth long-held by many spiritual traditions: that the nature of reality is non-duality, and that this underlying Oneness is both the essence and the foundation of ALL THAT IS. Today Amit is an avid spiritual practitioner and teacher, whose work integrates science and spirituality.
His numerous books, include The Self-Aware Universe, Physics of the Soul, The Quantum Doctor, God is Not Dead, Quantum Creativity, and The Everything Answer Book. He was featured in the famous movie What the Bleep Do We Know!? as well as the documentaries Dalai Lama Renaissance and The Quantum Activist.
Throughout the entire workshop Dr. Goswami will be there to support you, provide personal advice and answer your questions via our workshop forums and private messaging system.
IMPORTANT DISCLAIMER
While many of our products contribute to wellness, they are not intended to replace medical diagnosis and treatment. DO NOT listen to Hemi-Sync® while driving or operating heavy equipment, or with other devices that may influence brain-wave activity. If you have a tendency towards seizures, auditory disorders, or adverse mental condition(s), DO NOT listen to Hemi-Sync® without first consulting your physician. In the unlikely event that you experience any unusual physical or mental discomfort, immediately discontinue use. ALL WARRANTIES WHETHER EXPRESS OR IMPLIED, INCLUDING WARRANTIES OF MERCHANTABILITY AND FITNESS FOR A PARTICULAR PURPOSE, ARE DISCLAIMED.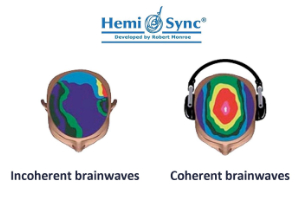 Hemi-Sync® Brainwave Patterns
Hemi-Sync® is a patented, scientifically and clinically proven audio-guidance technology refined with more than 50 years of research. Researchers learned that specific sound patterns could lead the brain to various states of consciousness, ranging from deep relaxation or sleep to expanded awareness and other extraordinary states.
The process works through the generation of complex, multilayered audio signals, which act together to create a resonance that is reflected in unique brainwave forms characteristic of specific states of consciousness. The result is a focused, whole-brain state known as hemispheric synchronization, or Hemi-Sync®, where the left and right hemispheres are working together in a state of coherence.
Copyright © 2015-20 Glidewing - All Rights Reserved