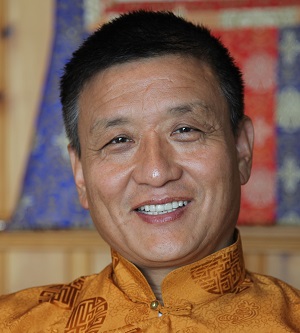 Tenzin Wangyal Rinpoche
Cancellation Policy: You may cancel your enrollment for any reason during the first week. The deadline is the first Friday of the workshop, and we will refund your enrollment fee less credit card fees charged by our payment processing provider.
Time-Zone Friendly: There are no set class times. Participants from all over the world can attend and no prior experience is needed. Audio/Visual material is pre-recorded and streamed. You can replay the instructional sessions as often as you need for the duration of the workshop.
System Requirements: Broadband Internet access is essential due to the streamed video content. We recommend the Firefox, Chrome and Safari browsers for use with our course web sites. GlideWing Workshop Videos are compatible with all desktop, notebook and mobile devices, including Apple and Android tablets and smartphones.
Comments from Workshop Participants:
"This is a gem of a course. Wise and practical". — Kristi, Leesburg, U.S.
"This course has been amazing for me. I have really moved forward during the course and I know I will continue to use the methods after the course finishes. Rinpoche's teachings are SO accessible, so much related to the lives we actually live in the West. He has made the methods so simple to use, yet they remain effective. The sharing with other students is an essential part of the experience for me". — Ruth, Maleny, Australia
"Has been just the medicine I needed at this time. I will continue to work with the practices. Thank you, thank you, Rinpoche, for sharing the essences of these teachings in a way that lets them blossom in me as I am ready..".— Ellen, California, U.S.
"As if we are one big uplifting family helping each other to take the next step forward in life and creativity. I really loved and enjoyed this workshop." — Siri Shakti, Geesteren, Netherlands
"This has been wonderful transformative process. … Shame and fear transformed to openness and confidence. I am very very happy now!" — Taru, Helsinki, Finland
"I have 20 years of training as therapist and scientist. I found this course the most potent technique for self-work with the shadow and the allowing of free expression from the internal self. I'm so happy for [being able to] take it". — Miguel, Lima, Peru
"Everybody always told me that happiness comes from the inside, but, until now, nobody showed me how to actually go inside and experience it. Through this practice I´ve come to believe that this inside happiness exists, and that it´s possible for me to experience it if I¨m willing to do the work.". — Jesse, Mexico
"Rinpoche is a wonderful teacher. I've learned some very useful tools to work with my creative process - and life itself. Thank you!" — Robert, USA
"The program enabled me to access trauma which I had previously been unable to do using the Ruchen Art. What an amazing process bringing to light that which was hidden before". — Marikie, Canada
"This course resonated with the part of me that longs for free creative expression. The teachings that Rinpoche transmitted coupled with his daily practices, unearthed some of my most hidden limiting beliefs, thoughts and patterns. The support of the online community was what surprised me the most. Truly one of the most effective online course I have taken!" — Diana, USA
"I've blocked myself from exploring my creative potential for most of my adult life. Rinpoche's guidance has helped me to transcend that self-imposed restriction and I am most grateful. We are truly blessed to have such a talented and compassionate teacher who fully understands the heart of the sacred teachings and is not afraid to adapt them to the modern world and the Western mind". — Steven, USA
"It was much more than I expected. How making art is really not only an activity, but a way of life...". — Eduardo, Mexico
"The workshop has been very helpful in working with the creative process. I loved the guided meditations. The structure of the workshop works so well in delivering bite sized pieces". — Carole, Canada
"It is Beyond Beautiful. Just listened to all the clips again, at 6-week point. it's like listening to Music of The Divine." — Selina, Singapore
"This platform was marvelous. I have participated in online learning systems, but to me this was the most user-friendly and robust. Kudos to GlideWing!" — Clara, U.S.
"This was an amazing learning modality! I cannot express my joy and appreciation enough. The videos, forums, MP3's and community have been life-altering". — Hathi, U.S.
Workshop Information

Awakening the Sacred Arts with Geshe Tenzin Wangyal Rinpoche

Discover your Creative Potential
June 10 - July 9, 2023
A four-week online workshop with personal support and guidance provided by Tenzin Wangyal Rinpoche
Workshop registration: US $379.00
---
To register using PayPal, click on the "Add to Cart" button, and then follow the instructions on the following page. Once we have processed your registration, we will complete your enrollment and send you further instructions by email.

You can also click here to purchase and enroll in the workshop using the Stripe payment system directly on the course site. On the course site, you can use your existing GlideWing account, or create a new one.

For assistance, please write to us at programs@glidewing.com.
"When you know how to tap fully into this open, creative flow, its beneficial qualities can extend to any area of your life. You can paint more masterful paintings. Your music can have more depth of connection. Your writing can be more genuine and moving. You will be able to solve problems at work, resolve conflicts with loved ones, or even shift your thought patterns with more natural spontaneity".
- Tenzin Wangyal Rinpoche, July 2016 Lion's Roar: Read the full article
Join us for this opportunity to free yourself from creative obstacles, nurture your capacity for joyful self-expression, and make positive changes in your life.
This four-week online workshop is for anyone who seeks to usher a vision into reality - whether through creative problem solving, personal growth, or bringing creative artistry to a whole new level.
The Tibetan spiritual traditions tell us that unleashing our dynamic creative energy is a matter of recognizing and tapping into the wellspring of creativity that already exists within us. Tenzin Wangyal Rinpoche will instruct and guide simple meditation practices of body, speech and mind that can help you to:
Recognize and clear physical, energetic, and mental obstacles blocking your creative flow
Connect with and trust in your innate creative potential
Discover the inner strength and confidence that can allow your creativity to naturally blossom
Workshop participants will be encouraged to devote daily time to meditation practice and to pursuing their personal creative process. An online "creative sharing" forum will permit sharing the fruits of your creative practice, should you wish to do so.
Take this unique opportunity to join Geshe Tenzin Wangyal Rinpoche and an international online community of creative artists-professional and amateur writers, painters, poets, musicians-as well as people who are simply interested in bringing their journey of personal growth to fruition.
About the Workshop
This is a four-week workshop which is divided into eight teaching sessions plus an introduction to the workshop practices. The workshop is intended to be experiential rather than purely philosophical or conceptual in nature, with each teaching session providing guidance and exercises for your formal practice. Rather than presenting extended lectures, each teaching session consists of a series of short videos, each one focused on a specific aspect of the teachings. The teaching session videos have a total duration of about an hour or less. A new teaching session will be introduced twice a week, on each Saturday and Tuesday of the workshop.
The videos in the workshop were recorded specifically for this program, and once a teaching session has been introduced, it remains available for you to review for the duration of the course. Although the videos are generally available only for the duration of the workshop, it is important to us that you have as much time as you need to complete your work with the teaching sessions. If you find that you would like to have additional time to access the videos and course materials, we'll be glad to extend your access. The workshop materials also include written instructions for each of the practices taught in the teaching sessions, which you can download or print to keep for your ongoing practice.
Rinpoche makes himself available throughout the four weeks of the workshop to answer questions about the teachings and your experiences with the practices through our private workshop forums. Through the forums, you will be also able to communicate and share your experiences with the group who will be working with the teachings along with you.
Workshop Features:
Four-week teacher-guided online workshop
Step-by-step class video instructions (via streaming video)
New material released twice a week
Eight hours of video instruction and meditations
No set class times - review video instruction any time and as often as necessary throughout the workshop
Downloadable guided meditations for your practice
Personal support and individual advice from Rinpoche through our private workshop forums
Easy to use and navigate course site

IMPORTANT DISCLAIMER
The teachings and exercises of this workshop do not represent medical advice and should not be considered a substitute for care or treatment by a medical doctor or other professional health care provider. If you have questions about your health care needs or think you may be suffering from a medical or psychological condition, seek prompt medical attention.
Copyright © 2015-23 Glidewing, Inc. - All Rights Reserved