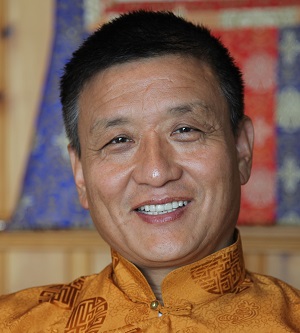 Tenzin Wangyal Rinpoche
Spanish subtitles are now available in the Tibetan Dream Yoga workshop.

This is still an English-language workshop. But with the addition of Spanish subtitles in the instructional videos, our hope is that the Dream Yoga teachings will be more accessible to our Spanish-speaking participants.
Cancellation Policy: You may cancel your enrollment for any reason during the first week. The deadline is the first Friday of the workshop, and we will refund your enrollment fee less credit card fees charged by our payment processing provider.
Time-Zone Friendly: There are no set class times. Participants from all over the world can attend and no prior experience is needed. Audio/Visual material is pre-recorded and streamed. You can replay the instructional sessions as often as you need for the duration of the workshop.
System Requirements: Broadband Internet access is essential due to the streamed video content. We recommend the Firefox, Chrome and Safari browsers for use with our course web sites. GlideWing Workshop Videos are compatible with all desktop, notebook and mobile devices, including Apple and Android tablets and smartphones.
Comments from Workshop Participants:
"This course is a jewel. It will not only teach you how to awake in dreams, but how to awake in everyday life. How to be more awake and present whatever is happening. A jewel to be grateful for". — Federico, Massachusetts, U.S.
"I feel much more grounded in the practice, and able to continue this throughout the rest of my life! I am really impressed that Rinpoche can do this online!" — Molly, Colorado, U.S.
"I thought the opportunity to study these teachings and have this experience without having to get on an airplane was an awesome experience". — Kym, Oklahoma, U.S.
"Thank God there is a method like this ... and I am fortunate to know about it and to practice it. The Workshop has brought a relaxed alertness in my day to day ... and to realize the dreams as dreams while dreaming". — Jesús, Muenchen, Germany
"The teachings have helped me beyond improving my dream life. They have also brought much peace in my waking life. As a result I feel much more centered than before. . I feel more in touch with my inner self".— Karim, Dubai, UAE
"The strong participation in the forums by participants and, in particular, by Rinpoche's personal feedback, made for a very strong experience". — Jenny, Oregon, U.S.
"This was a wonderful way to connect with Rinpoche, the practice and sangha from all around the world. The month-long format allowed for a deepening of each step of the practice, so that transformation could happen and be observed over time. The support of having Rinpoche holding the space for us and personally responding to questions was invaluable". — May, Virginia, U.S.
"Each workshop with Rinpoche helps me climb a further step on my inner development, so also did this one. With Rinpoche's help and encouragement many blockages in my body and mind could again be released. I mostly appreciate Rinpoche's compassionate guidance and psychologically very helpful and easy-to-follow presentation of the teachings". — Gabriele, Kematen/Krems, Austria
"I really had fun during the practices. With effortless effort, the results are amazing and where they are not expected at all. I receive them as presents". — Martine, Vannes, France
"This is the start of a marvelous lifelong journey back into my long-neglected but immensely rich inner being". — Joseph, New York, U.S.
"This was an amazing learning modality! I cannot express my joy and appreciation enough. The videos, forums, MP3's and community have been life-altering". — Hathi, U.S.
"It was a deep experience. Thanks!!!" — Guido, Como, Italy
"The only thing I can say is that this has been a marvelous experience. Thank you". — Aline, D.F., Mexico
Tibetan Dream Yoga

Ancient Teachings from the Dzogchen Tradition
with Geshe Tenzin Wangyal Rinpoche
With Available Spanish Subtitles!
April 29 - May 28, 2023
A four-week online workshop with personal support and guidance provided by Tenzin Wangyal Rinpoche

Workshop registration: US$ 379.00
---
To register using PayPal, click on the "Add to Cart" button, and then follow the instructions on the following page. Once we have processed your registration, we will complete your enrollment and send you further instructions by email.

You can also click here to purchase and enroll in the workshop using the Stripe payment system directly on the course site. On the course site, you can use your existing GlideWing account, or create a new one.

For assistance, please write to us at programs@glidewing.com.
"The practice of dream yoga is about understanding more about appearances and what they truly are. And ultimately, it is about understanding who we are, the true sense of self."
- Tenzin Wangyal Rinpoche
We spend a third of our life sleeping. Every night we participate in profound mysteries, moving from one dimension of experience to another, losing our sense of self and finding it again, and yet we take it all for granted. We wake up in the morning and continue in "real" life, but in a sense we are still asleep and dreaming. The teachings tell us that we can continue in this deluded, dreamy state, day and night, or wake up to the truth.
Through practice, we can cultivate greater awareness during every moment of life. If we do, freedom and flexibility continually increase and we are less governed by habitual preoccupations and distractions. Eventually we develop a continuity of awareness that allows us to maintain full awareness during dream as well as in waking life. When we fully develop this capacity, we will find that we are living both waking and dreaming life with greater ease, comfort, clarity, and appreciation.
About the Workshop
This is a four-week workshop which is divided into eight teaching sessions plus an introduction to the workshop practices. The workshop is intended to be experiential rather than purely philosophical or conceptual in nature, with each teaching session providing guidance and exercises for your formal practice. Rather than presenting extended lectures, each teaching session consists of a series of short videos, each one focused on a specific aspect of the teachings. The teaching session videos have a total duration of about an hour or less. A new teaching session will be introduced twice a week, on each Saturday and Tuesday of the workshop.
The videos in the workshop were recorded specifically for this program, and once a teaching session has been introduced, it remains available for you to review for the duration of the course. Although the videos are generally available only for the duration of the workshop, it is important to us that you have as much time as you need to complete your work with the teaching sessions. If you find that you would like to have additional time to access the videos and course materials, we'll be glad to extend your access. The workshop materials also include written instructions for each of the practices taught in the teaching sessions, which you can download or print to keep for your ongoing practice.
Because our participants will be attending from all over the world and many different time zones, the teaching sessions can be accessed according to your own schedule, when it is convenient for you. Most of the exercises in the workshop are performed as you are preparing for and during the night while you are sleeping, which make up the majority of the formal practice. However Rinpoche also recommends that you be mindful of your thoughts and actions throughout the day, putting the teachings into action through informal practice. Informal practice, as the name suggests, can be done anywhere and any time you have a moment to reflect on the situations that arise in life. Detailed instruction for both formal and informal practice will be provided in the workshop videos.
Rinpoche makes himself available throughout the four weeks of the workshop to answer questions about the teachings and your experiences with the practices through our private workshop forums and messaging system. While you will have the ability to ask Rinpoche questions privately, we encourage you to use the forums so that everyone may benefit from your experiences and from Rinpoche's responses and guidance. Through the forums, you will be able to communicate and share your experiences with the group who will be working with the teachings along with you. Because of his busy schedule, Rinpoche asks that your questions be about the teachings presented in the workshop and in particular, your experiences with them. He also asks that your questions come from the heart, rather than being conceptual or merely inquisitive in nature.
Workshop Features:
Four-week teacher-guided online workshop
Step-by-step class video instructions (via streaming video), now with Spanish Subtitles!
New material released twice a week
Eight hours of video instruction, exercises, and meditations
No set class times - review video instruction any time and as often as necessary throughout the workshop
Continuous personal support and individual advice from Geshe Tenzin Wangyal Rinpoche via workshop forums and messenger
Easy to use and navigate course site
Copyright © 2015-23 Glidewing, Inc. - All Rights Reserved