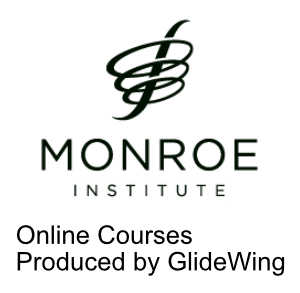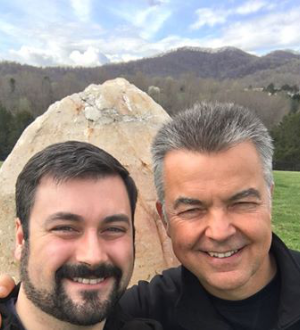 Luigi Sciambarella and Thomas Hasenberger
Cancellation Policy: You may cancel your enrollment for any reason during the first week. The deadline is the first Friday of the workshop, and we will refund your enrollment fee less credit card fees charged by our payment processing provider.
Time-Zone Friendly: There are no set class times. Participants from all over the world can attend and no prior experience is needed. Audio/Visual material is pre-recorded and streamed. You can replay the instructional sessions as often as you need for the duration of the workshop.
System Requirements: Broadband Internet access is essential due to the streamed video content. We recommend the Firefox, Chrome and Safari browsers for use with our course web sites. GlideWing Workshop Videos are compatible with all desktop, notebook and mobile devices, including Apple and Android tablets and smartphones.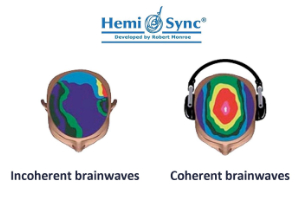 Hemi-Sync® Brainwave Patterns
Hemi-Sync® is a patented, scientifically and clinically proven audio-guidance technology refined with more than 50 years of research. Researchers learned that specific sound patterns could lead the brain to various states of consciousness, ranging from deep relaxation or sleep to expanded awareness and other extraordinary states.
The process works through the generation of complex, multilayered audio signals, which act together to create a resonance that is reflected in unique brainwave forms characteristic of specific states of consciousness. The result is a focused, whole-brain state known as hemispheric synchronization, or Hemi-Sync®, where the left and right hemispheres are working together in a state of coherence.
It All Started with Bob Monroe
Robert Monroe was a successful and distinguished business executive, dedicated family man, and noted pioneer in the investigation of human consciousness. He also invented Hemi-Sync® and founded The Monroe Institute®, a worldwide organization dedicated to expanding human potential.
Workshop Information


Introduction to Lucid Dreaming
Awakening to a New Reality
May 28 - June 19, 2022
A three-week Monroe Institute online program developed by Luigi Sciambarella and Thomas Hasenberger and produced by GlideWing. The tools and techniques you will learn are based on a combination of ancient wisdom and cutting-edge brainwave research.
Workshop registration: $349.00
---
To register, click on the "Add to Cart" button, and then follow the instructions on the following page. Once we have processed your registration, we will complete your enrollment and send you further instructions by email.

You can also click here to enroll in the workshop directly from the course site with immediate access to the workshop, using the Stripe payment system.

For assistance, please write to us at programs@glidewing.com.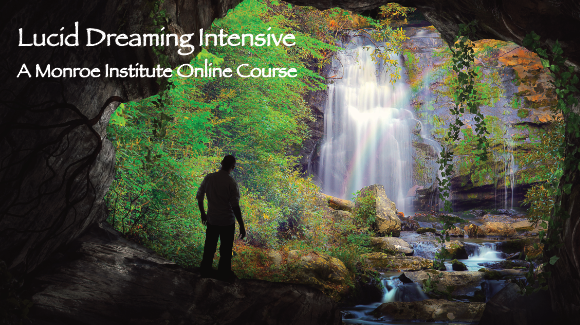 Everyone has the capacity to learn lucid dreaming, and our process starts with cultivating techniques that develop deep mental, emotional and physical relaxation through daytime mindfulness practices and audio-guided exercises. There will be night time and early morning training to help you expand your awareness of natural biorhythms which provide ample opportunity for personal growth. In observing the movement of your conscious awareness throughout the day and night, you will discover the times in which the soil is most fertile and fruitful for you to practice.
In learning to consciously interact with the dream state, we also deepen our relationship with hidden aspects of ourselves. We learn to reclaim that dormant third of our lives and become an integrated whole.
During this three-week course you will learn to:
Develop greater self-awareness
Experience consciousness as a continuum
Deepen physical and mental relaxation
Experience inner healing and emotional cleansing
Cultivate free will by releasing fears and self-limiting beliefs
Find creative and artistic expression and insight
Discover a greater, more holistic view of reality
Gain profound inner wisdom
Session 1 introduces the foundation tools for our dreaming exercises, including deep relaxation, developing the body sense and using affirmations.
Session 2 deepens the foundation tools by training the non-judgemental acceptance of what we encounter in the dream state and our ability to feel and interact with the dream body.
Session 3 introduces the wake-induced lucid dreaming (WILD) technique and how using Hemi-Sync makes this one of the most powerful techniques for consistently becoming lucid.
Session 4 explores the relationship between lucid dreaming and out of body experiences, and how the out of body state can be used as an entry into the experience of wake-induced lucid dreaming.
Session 5 delves into the dream-induced lucid dreaming methods (DILD) with the use of reality checks, dream helpers and dream planning.
By Session 6, targets your whole night cycle with specially designed SAM (spatial angle modulation) exercises to help you recalibrate healthy sleep rhythms and utilize sleep interruption lucid dreaming techniques.
Personal support and guidance provided by Luigi Sciambarella and Thomas Hasenberger, both Monroe Institute off-campus residential and guest trainers, for the duration of the course.
About this Workshop
This is a three-week online workshop, divided into six teaching sessions. Each session provides instruction presented in the form of streaming video recorded specially for this program, with an average running time of about one hour. Each session includes guided exercises featuring the SAM and Hemi-Sync® audio guidance technologies. This is an experiential workshop, where the real work is done in your personal practice. There are 17 guided exercises meditations in the course, and audio versions in MP3 format can be downloaded and kept for your ongoing practice after the workshop has concluded. We recommend that you practice daily if possible with these exercises. Monroe Institute trainers Thomas Hasenberger and Luigi Sciambarella will be your guides, and they will be available throughout the three weeks of the course to answer your questions and to provide support and guidance via our workshop forums and private messaging system.
IMPORTANT DISCLAIMER The intention of this workshop, and its teachers and producers, is only to offer information of a general and educational nature to help you in your quest for physical, emotional and spiritual well-being. The teachings and exercises presented in the workshop do not represent medical advice or prescribe the use of any technique as a substitute or replacement for seeking professional care or treatment for physical, psychological/emotional, or medical problems you may be experiencing.
If you have any specific questions about any medical or psychological matter you should consult your doctor or other professional healthcare provider. If you think you may be suffering from a medical or psychological condition you should seek immediate medical attention. You should never delay seeking professional medical/psychological advice, disregard such advice, or discontinue medical/psychological treatment because of information provided in the workshop or on our related web site. In the event you use any of the information in this course for yourself or others, the course teachers and producers assume no responsibility for your actions.
DO NOT listen to Hemi-Sync® while driving or operating heavy equipment, or with other devices that may influence brain-wave activity. If you have a tendency towards seizures, auditory disorders, or adverse mental condition(s), DO NOT listen to Hemi-Sync® without first consulting your physician. In the unlikely event that you experience any unusual physical or mental discomfort, immediately discontinue use.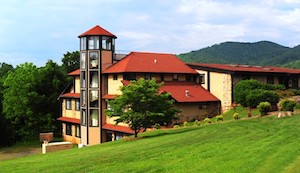 The Monroe Institute
"The Monroe Institute advances the exploration of human consciousness and the experience of expanded states of awareness as a path to creating a life of personal freedom, meaning, insight, and happiness."
The Monroe Institute® (TMI) is a preeminent leader in human consciousness exploration. TMI is devoted to the premise that focused consciousness contains the answers to humankind's questions. Through the use of technology, education, research and development, TMI has been advancing the experience of individuals in the exploration of targeted and expanded states of awareness for over 50 years.
Copyright © 2018-21 Glidewing, Inc. - All Rights Reserved