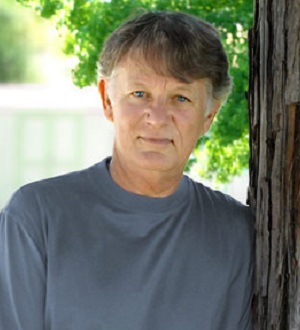 Marc Allen
Cancellation Policy: You may cancel your enrollment for any reason during the first week. The deadline is the first Friday of the workshop, and we will refund your enrollment fee less credit card fees charged by our payment processing provider.
Time-Zone Friendly: There are no set class times. Participants from all over the world can attend and no prior experience is needed. Audio/Visual material is pre-recorded and streamed. You can replay the instructional sessions as often as you need for the duration of the workshop.
System Requirements: Broadband Internet access is essential due to the streamed video content. We recommend the Firefox, Chrome and Safari browsers for use with our course web sites. GlideWing Workshop Videos are compatible with all desktop, notebook and mobile devices, including Apple and Android tablets and smartphones.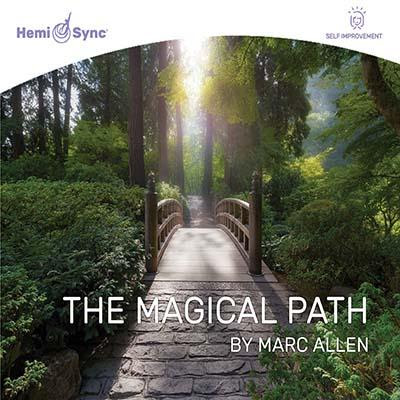 Comments from Workshop Participants:
"I really loved this workshop. The tools are very powerful and yet very simple. This is something that I can apply and do right away and watch the results unfold. This is exactly what I needed. I am so used to complex...and then you just don't actually do it because it is too hard. The fact that Marc has achieved such success and has used these techniques really speaks to their power. Thank you so, so much for this wonderful opportunity. I feel like I have learned tools that I can use to finally create a life that I want to live, that I enjoy". — Rowynn, U.S.
"The beauty and simplicity of this course, combined with the awesome conviction and delivery of Marc Allen makes for certain magic. This is a man who walks his talk..This is abundance based beauty from within to the outside world, alchemic joy and visualisation empowerment. I have found the techniques useful and already change and forward movement manifest more easily. This has cleared blocks and facilitated ease in change.. Loved it!!!!!" — Katherine, Australia
"I loved Marc Allen's manner of conveying the information. I really appreciated his calm and positive presence and I found the course easy to follow and practice". — Andrea, U.S.
"I thoroughly practiced each step, and will continue to do so. I downloaded the meditations and have them for further daily practice. Thank you all for this wonderful course!" — Kate, U.S.
"I liked the breakdown of concepts and how they linked together. I think the production of the video was professional and direct. I also felt it was genuine and not staged which is refreshing. The content was directly related to the course! Excellent. The suggested practice sections were useful. I also enjoyed the downloadable meditations. This made it easier to do and also repeat". — Jenn, Australia
"Very RICH!! I'm very glad to have been the recipient of Marc's wisdom and world view, which totally affirms my own. All the techniques given are great. Furthermore, it's rare and deeply delightful, to listen to someone who feels and communicates so strongly the magical mystery of simply being alive!! Just connecting with one's own Life Force is seriously healing, and if everyone could learn to do that, the world would surely be a happier place..". — Thalia, U.S.
"This platform was marvelous. I have participated in online learning systems, but to me this was the most user-friendly and robust. Kudos to GlideWing!" — Clara, U.S.
"To receive so powerful teachings in the context of a home retreat has been for me a unique experience. And to have the opportunity to integrate them in my everyday life at the same time... I have no words to express the gratitude I feel for this gift!" — Martine, France
"This was an amazing learning modality! I cannot express my joy and appreciation enough. The videos, forums, MP3's and community have been life-altering". — Hathi, U.S.
"The whole riddle of life summed up within a month effortlessly, magically and lucidly". — Tasiu, Nigeria
"I loved it, and deepened my awareness and understanding as a result of this course. The videos were excellent. I think the book will be an even greater resource having done the course.". — Mathes, U.S.
"Gratitude for such an awesome experience right in my home and appreciation for all that helped in making this workshop possible, many thanks". — Jini, U.S.
"I really appreciated this format, so that I can return to the classes to examine details I may have overlooked. I loved the connectivity of the forum as well". — Suzanne, U.S.
On the Magical Path with Marc Allen

A Practical Guide to the Power of Intention
October 15 - November 6, 2022
This three-week online workshop with personal support and guidance provided by Marc Allen includes downloadable Hemi-Sync® meditations and a bonus track from Marc's recently-released CD!
Workshop registration: $349.00

---
To register, click on the "Add to Cart" button, and then follow the instructions on the following page. Once we have processed your registration, we will complete your enrollment and send you further instructions by email.

You can also click here to enroll in the workshop directly from the course site with immediate access to the workshop, using the Stripe payment system.

For assistance, please write to us at programs@glidewing.com.
Do you remember when you believed that anything was possible? Or when you had a secret feeling inside that life is meant to be magical — that it's meant to be really good? You were right.
No matter how many disappointments, setbacks, or failures you may have experienced, the deeper truth is that the creative forces of the universe are available to you right now to make your dreams a living reality. In this workshop, you will be given the tools to help you realign with this power that is your birthright.
If you're not clear about your dreams — if they've been buried beneath a mountain of stress, routine, and obligations — you can get clear very soon. You'll recognize and empower your unique dreams so that they become bigger than any of your doubts and fears. The Magical Path workshop provides a profoundly uplifting blueprint for moving beyond old blind spots and blockages and stepping into a brand new phase of your life.
Personal guidance and coaching is provided by Marc Allen, human potential pioneer and visionary business leader.
Dream, Imagine, and Manifest the Life of Your Dreams
This three-week online workshop is for anyone who wants harness the powers of creation inherent in the human mind to chart a new course in life.
Marc Allen knows the Magical Path well. Having gone from poverty to founding a successful multi-million dollar business, he is living proof that magic and miracles can be integral to daily life rather than seemingly random occurrences. The three-week Magical Path online workshop provides a profoundly uplifting blueprint for moving beyond old blind spots and blockages (no matter how long they have persisted!) and stepping into a brand new phase of your life. In the areas of love, health, wealth, work, life purpose, spiritual growth, or any other part of your life, Marc will inspire you to dream bigger — he will dare you to dream bigger. And he will help you to imagine new possibilities for exactly how to reach your dreams. 
There's a simple trick to all of this — one that Marc quotes often — summed up by Eckhart Tolle in The Power of Now:
"If you get the inside right, the outside will fall into place."
Let this year be your turning point!
Be mentored by a master of transformation. Marc will be available to address your questions and provide individual advice for the entire duration of the workshop. As president of New World Library, one of the most successful independent publishing companies in the U.S., having his direct coaching is a rare opportunity, not to be missed. As a publisher, Marc has shepherded some of the most influential non-fiction books of the past 30 years, including The Power of Now by Eckhart Tolle, The Seven Spiritual Laws of Success by Deepak Chopra, and Creative Visualization by Shakti Gawain. 
As an author and teacher — with titles that include Visionary Business, The Millionaire Course, and the book that is the basis for this course, The Magical Path — Marc works with people around the globe to craft lives of lasting abundance, prosperity, and peace.
During the workshop, you will learn how to:
Map out the achievable goals and magical steps that will bring your dreams to fruition 
Harness the vast power of your subconscious mind to your greatest advantage
Understand and employ intention and affirmations to magnetize your greatest desires
Master the art of manifestation to realize your goals
Tap into your inner healing reservoirs for optimal body-mind-spirit health
Bring magic into all of your relationships — with your partner, children, friends, and colleagues
Do all of these things with more ease and pleasure than ever before
Workshop Features:
Three-week, teacher-guided online workshop
Step-by-step class video instructions (via streaming video)
New material released twice a week
Six hours of video instruction, exercises, and meditations
No set class times - review video instruction any time and as often as necessary throughout the workshop
Ten downloadable guided meditations and exercises featuring Hemi-Sync® for your practice
Now includes a downloadable Hemi-Sync® meditation from Marc's just-released CD!
Continuous personal support and individual advice from Marc Allen via workshop forums and messenger
IMPORTANT DISCLAIMER While many of our products contribute to wellness, they are not intended to replace medical diagnosis and treatment. DO NOT listen to Hemi-Sync® while driving or operating heavy equipment, or with other devices that may influence brain-wave activity. If you have a tendency towards seizures, auditory disorders, or adverse mental condition(s), DO NOT listen to Hemi-Sync® without first consulting your physician. In the unlikely event that you experience any unusual physical or mental discomfort, immediately discontinue use. ALL WARRANTIES WHETHER EXPRESS OR IMPLIED, INCLUDING WARRANTIES OF MERCHANTABILITY AND FITNESS FOR A PARTICULAR PURPOSE, ARE DISCLAIMED.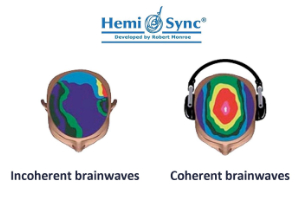 Hemi-Sync® Brainwave Patterns
Hemi-Sync® is a patented, scientifically and clinically proven audio-guidance technology refined with more than 50 years of research. Researchers learned that specific sound patterns could lead the brain to various states of consciousness, ranging from deep relaxation or sleep to expanded awareness and other extraordinary states.
The process works through the generation of complex, multilayered audio signals, which act together to create a resonance that is reflected in unique brainwave forms characteristic of specific states of consciousness. The result is a focused, whole-brain state known as hemispheric synchronization, or Hemi-Sync®, where the left and right hemispheres are working together in a state of coherence.
Copyright © 2018 Glidewing, Inc. - All Rights Reserved